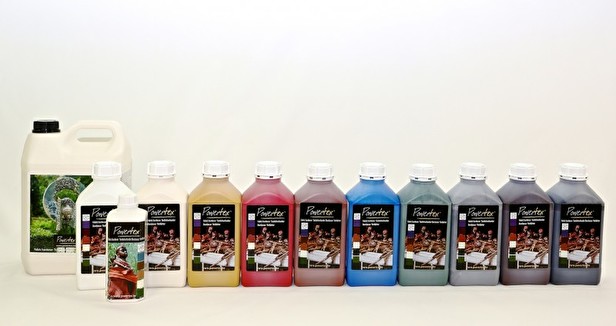 Powertex is een textiel verharder, een milieuvriendelijk alternatief voor polyester, op waterbasis. U kunt er alle materialen mee verharden die absorberend zijn zoals: textiel, papier, karton, pluche, leer, glasvezelmat, bij voorkeur natuurlijke materialen. Powertex is uitstekend te combineren met zelfhardende kleisoorten, beton, steen, keramiek, hout, zand en Stone Art. Powertex wordt gebruikt voor het maken van beelden, schilderijen, decoratie, objecten en juwelen.
10 Powertex kleuren en meer... Behalve Transparant zijn de overige reeds voorgekleurd. Powertex transparant droogt mat op. De originele motieven en kleuren blijven in de stof bewaard. U kunt zelf iedere gewenste kleur aanmaken door een potje Powercolor/Colortricx aan Powertex Transparant toe te voegen. Los het pigment op in een beetje warm water en roer het door Powertex. Uw beeld of decoratie kan ook overschilderd worden met olieverf, acryl, latex of Powercolor gemengd met Easycoat of Easy Varnish, in deze combinatie is uw verf direct watervast. Powertex droogt aan de lucht, verwarmen met haardroger, Powertex Heattool of radiator versnelt de droogtijd. Weer-en waterbestendig ? Alle Powertex kleuren zijn watervast, behalve transparant. Gebruik om de kleuren van de pigmenten te beschermen, steeds Easy Varnish. Deze vernis is waterafstotend door de was die erin verwerkt is. Uw decoratie na vernissen zes weken binnen laten uitharden.
Powertex is absoluut veilig voor mens en dier en voldoet aan de hoogste Europese en Amerikaanse veiligheidsnormen.
What is REACh?
REACh is the new European legislation on the distribution and use of chemicals.
Reach stands for : Registration - Evaluation - Autorisation - Chemicals​​
​All chemical substances that are being distributed or imported in the European Union in quantities over 1 ton a year need to be registered. Only a few chemicals, that are already regulated in the existing European legislation on food and pharmaceuticals are exempted for registration. Chemicals that are not registered or pre-registered may no longer being distributed, imported or produced in the European Union from the 1st of January 2009. Powertex and REACh? We believe that legislation and laws like REACH are made to protect people and the environment. Therefore, we do everything we support this legislation. In its 11 years of history, Powertex always has and always will take its responsibility and work according the strictest of international standards. We make no exception for REACh and are as ready as we can be at this moment.
Powertex also got the highest American Safety label. This confirmation is the crown on our work. The USA is very strict regarding the import of foreign products. Especially when the product is suitable for use in the educational sector. The American AP Safety label is worldwide known as the best. It will be taken over by other countries without testing procedures.